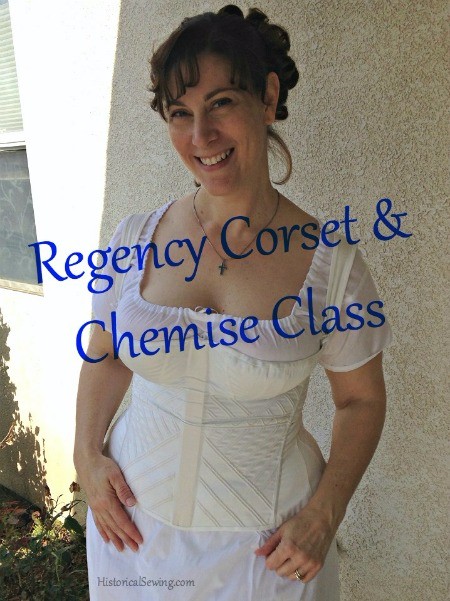 You've dreamed about dancing with Mr. Darcy…. The local historical society is hosting a summer picnic…. The book club is delving into Jane Austen….
The time has come to DRESS in the time period you LOVE – the Regency Era!
Whether you are new to the elegant period of the early 1800s or a long-time reveler, this online sewing class will feed your need to connect to the past through the clothing. It is designed specifically for you as a historical costumer. For those who want to build a wardrobe but need to begin with the all-important undergarments!
Through detailed lessons we'll cover each step to making a basic Regency-era chemise and long-line, corded corset. Yes – we will go over every detail together! Lessons include video tutorials along with an accompanying PDF handout with homework assignments to keep you on track.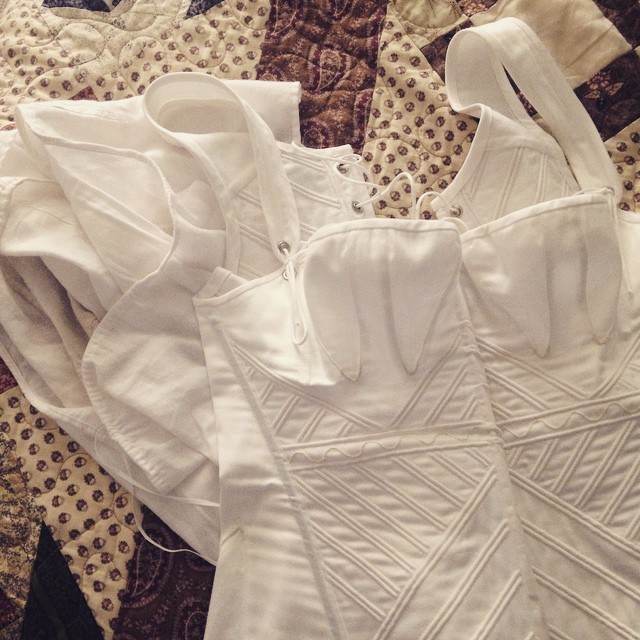 Accomplish the Smooth Regency Silhouette
This is an Intermediate to Advanced level sewing class. You should have some experience with sewing clothing – modern or historical – and be willing to advance your skill with advanced techniques including how to set in gussets, fitting a mockup to the figure, and binding long edges. We will follow the pattern closely but other options will be presented.
The priority is for you to understand corset construction techniques & create the basic undergarments to produce the sleek silhouette for this period of fashion. Because we all want to look fabulous in our Regency wear! Get the underwear finished then you'll be ready to build a wardrobe of various designs.
Come to class and focus on the specific topic of making a historically-accurate pieced chemise and fitted corset with gussets to challenge your dressmaking & fitting skills. Together we'll explore each area to look at when fitting this type of corset as well as the various sewing methods to make it come together easily. (Just be aware that sewing all the cording channels takes a lot of time!!)
Thrilling Lesson Plans Prepared for Students:
Lesson 1: Discuss fabric selections, specific tools & notions, and taking detailed measurements
Lesson 2: Sew the chemise with gussets and flat felled seams
Lesson 3: Corset mockup & fitting; begin construction
Lesson 4: Insert cording, set grommets/eyelets, sew seams
Lesson 5: Finish corset with binding & flossing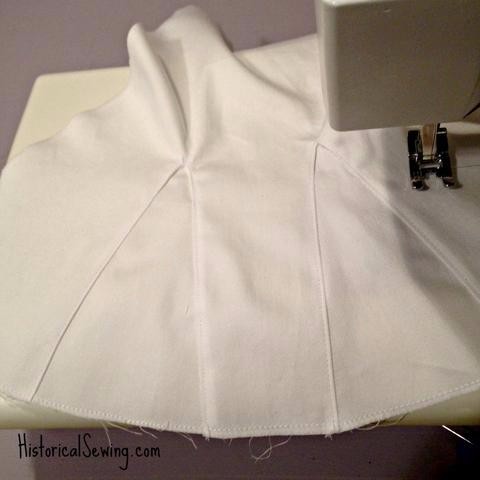 Although you'll find a variety of Regency undergarment patterns out there I wanted to use a tried and well-drafted pattern to make the project easy for you. I studied and debated for months on which pattern to use – trust me, it wasn't an easy decision! I was really torn between a couple of them!
So… for this class we'll be using the fantastic Laughing Moon #115 Regency & Romantic Era Corset pattern (sold separately).
Sizes in pattern - Bust 30" to 62" with adjustments for cup measurements up to 16" larger than underbust measurement.
Although, as with all our classes, you can choose to use another corset pattern. But be aware that the specific steps of each lesson will cover the class-specific Laughing Moon pattern. Although, I've found they translate well to other published patterns.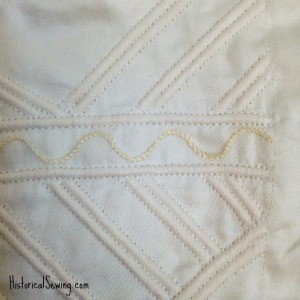 Valuable Skills & Techniques You'll Learn:
Fabrics to use for a Regency chemise and corset
Tools used in corset making
Inserting sleeve gussets
Corset mockup tips
Fitting tips for this slim corset style
Dealing with large cup sizes
Inserting triangle gussets
Cording a corset – the marking & inserting
Binding a corset for finishing
Pattern sizing and adjustments
Finishing a corset with reinforcement flossing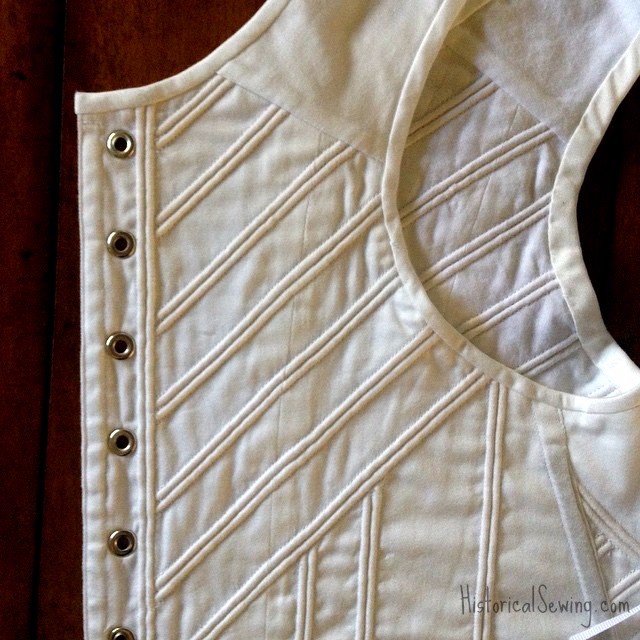 Intermediate to Advanced Level Class
If you have sewing experience but are new to historical garments, you may find this class a comfortable challenge. We'll be following the pattern closely, but you may feel a bit behind.
If you are new to sewing, this is not the best class for you at this time. Perhaps starting with a basic Victorian chemise and drawers class would be better so you don't become frustrated with techniques that are beyond your current skills.
If you are advanced in your sewing skills, you are welcome! Maybe you want to try a new time period. Or simply want the class as accountability so your corset gets done. We're here to push you forward.
No matter your level, we all have methods we can share with each other. Bring yours along to the class for full participation.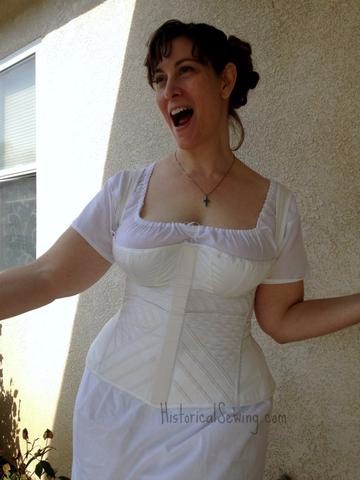 One final note - this class was initially hosted on my blog, HistoricalSewing.com. Any reference to emails, different lesson pages or logins, and even timing between release of lessons should be disregarded. You have access to the entire class lessons here on this site with progression on your own schedule.