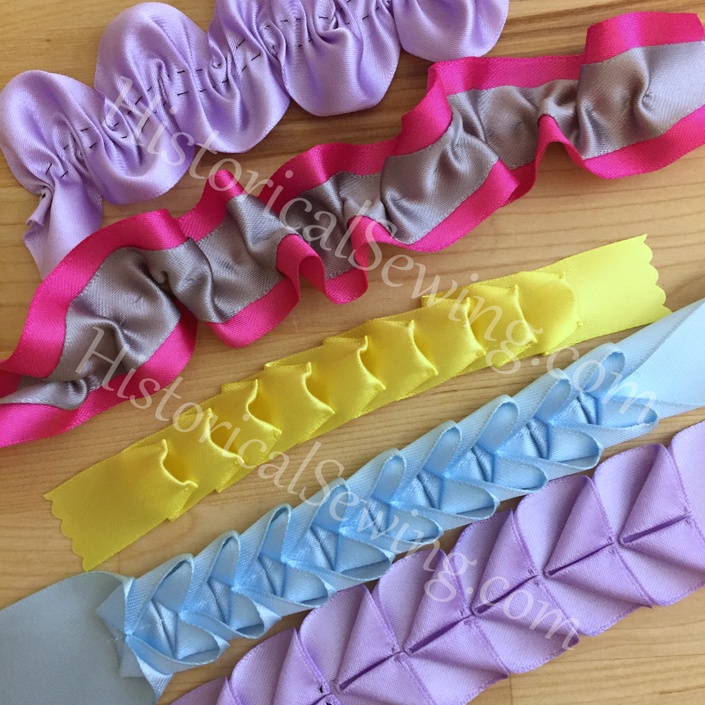 Ribbon Trims
Pretty frills & embellishments for your historical or Dirndl ensembles
Welcome to the fabulous realm of ribbon embellishments!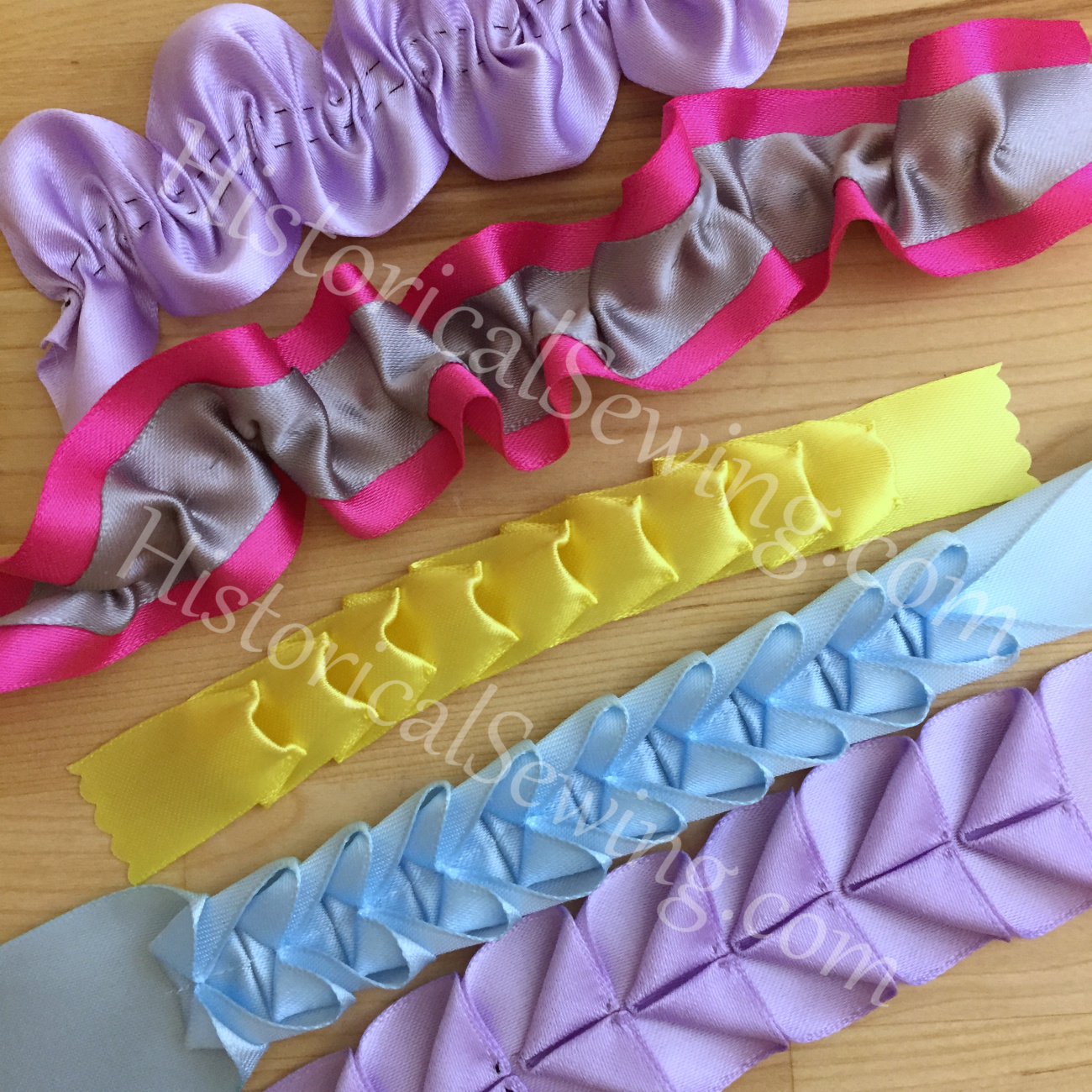 Ribbons and fabric pieces have been folded, pleated, gathered, and arranged for centuries to enhance garments of all sorts. For a plain gown or elegant one, bonnet or bag, ribbons can take the ensemble from ordinary to WOW!
I've been folding ribbons for garment trims for nearly 20 years. Most of the work began as simple gathers and pleats and the, often basic, bow loops.
Yet in recent years I've wanted to explore more options. Not only for Victorian dresses but especially for dirndl embellishments and other time periods.
So, what did the Victorians do with ribbons?

Did folded ribbon type trims exist in the Regency era?
Can fabric be used to create the same elaborate looks?
You may have experimented with ribbon trimming before... but what if you are now wanting to go further? Get better at your technique? Discover new or different patterns?
What more is there than knife pleats and ruching?
How do you get started and not pull out your hair as you figure out "how they did it?"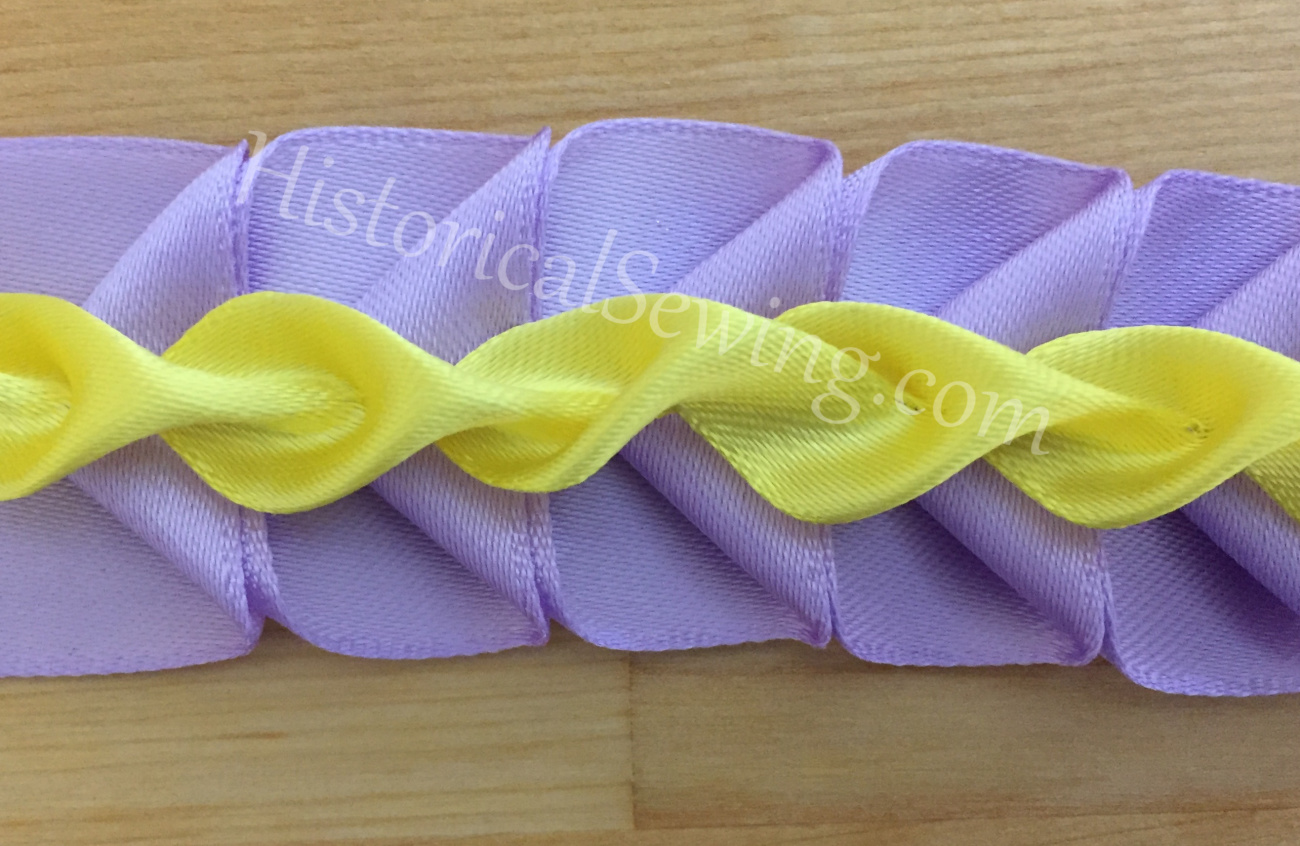 In my searching for more techniques, I've discovered our ancestors DID use ribbons quite often.
From the Ruching in the 18the century to the Fan trim on a circa 1810 Spencer jacket, from the Box and Angled Pleats on the 1870s skirt to today's Heart Ruffle on the dirndl and modern clothes, history is full of these ribbon ornaments!
One can take simple thread and needle with a strip of fabric and create all sorts of wonderful shapes - even from the most basic of steps.
And when you add layers and other elements, such as beads, the trim comes alive with beauty.
In this ribbon trim library of video and photo tutorials, you'll discover how certain trims are created, with tips to make them easier to make.
You'll gain confidence in working with both ribbons and strips of fabric knowing such trims are practically unique in today's fashion and historical costuming yet add so much joy and depth to the final ensemble.
Stand out from the crowd with ribbon embellishments you created!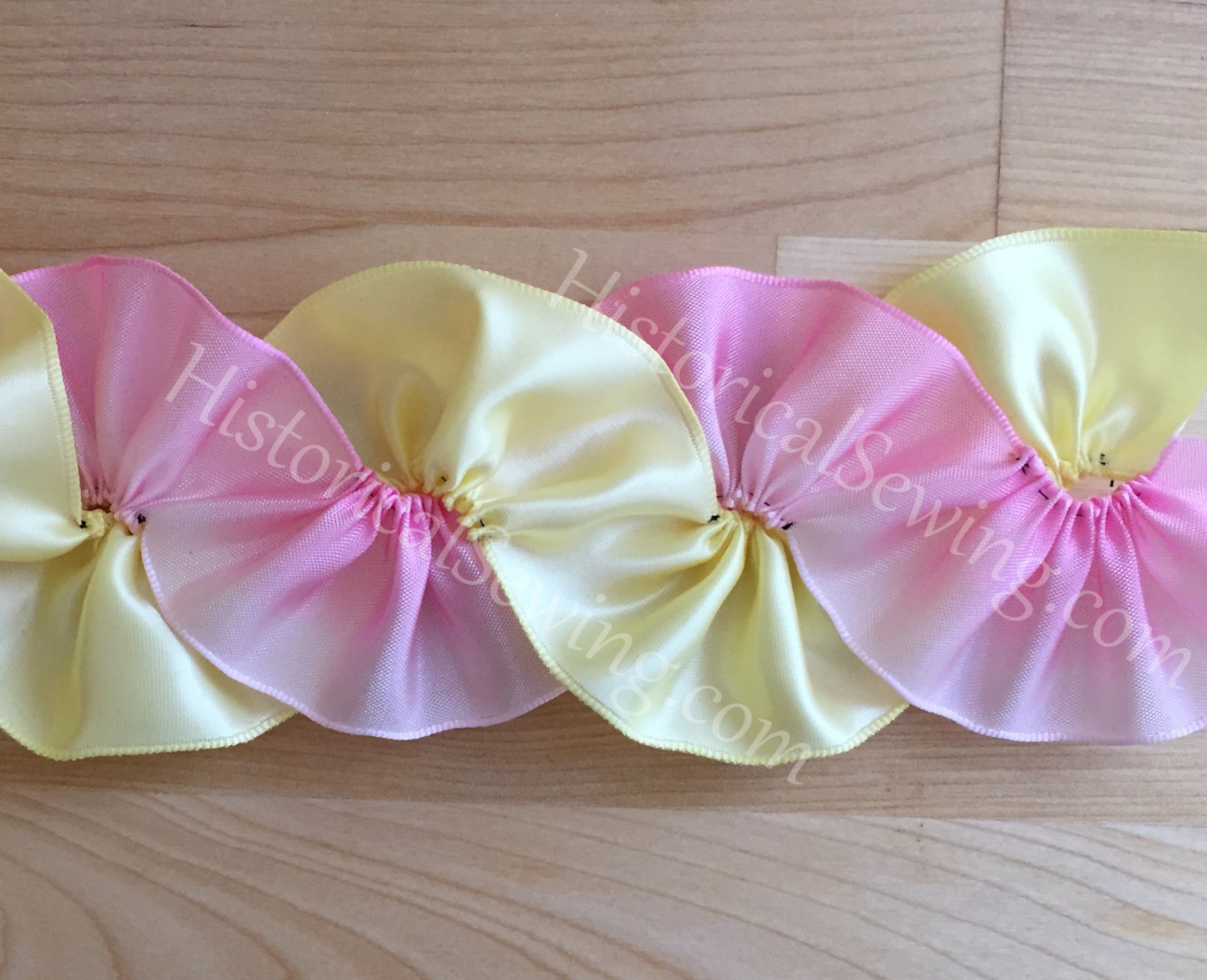 Scroll down to see the full list of tutorials included in the class curriculum. You get 18 complete tutorials in this class! Plus, bonus sections on working with fabric and ideas for dirndl adornments are included.
The trims taught in class will give you a foundation for each technique that can be adapted to various ribbon (and fabric!) widths, and open the door to rarely seen trims on today's projects.
The Hexagon trim is seen often from mid-to-late 19th century. Choose the Rosemary or Zigzag for something unique and different. The Beading can bedeck an 18th century hat or modern child's dress. And the Serpentine can be made up quickly but provide a remarkable look.
In each tutorial you'll get a video (or two) of the trim being created from scratch, as well as detailed photos, sewing tips and hints for easier and smoother results.
I recommend making a personal swatch book of each trim so you can easily refer back to them when your sewing project calls for a particular embellishment... or you simply need some inspiration.
Beginners, costumers, modern dressmakers, and dirndl lovers are all welcome!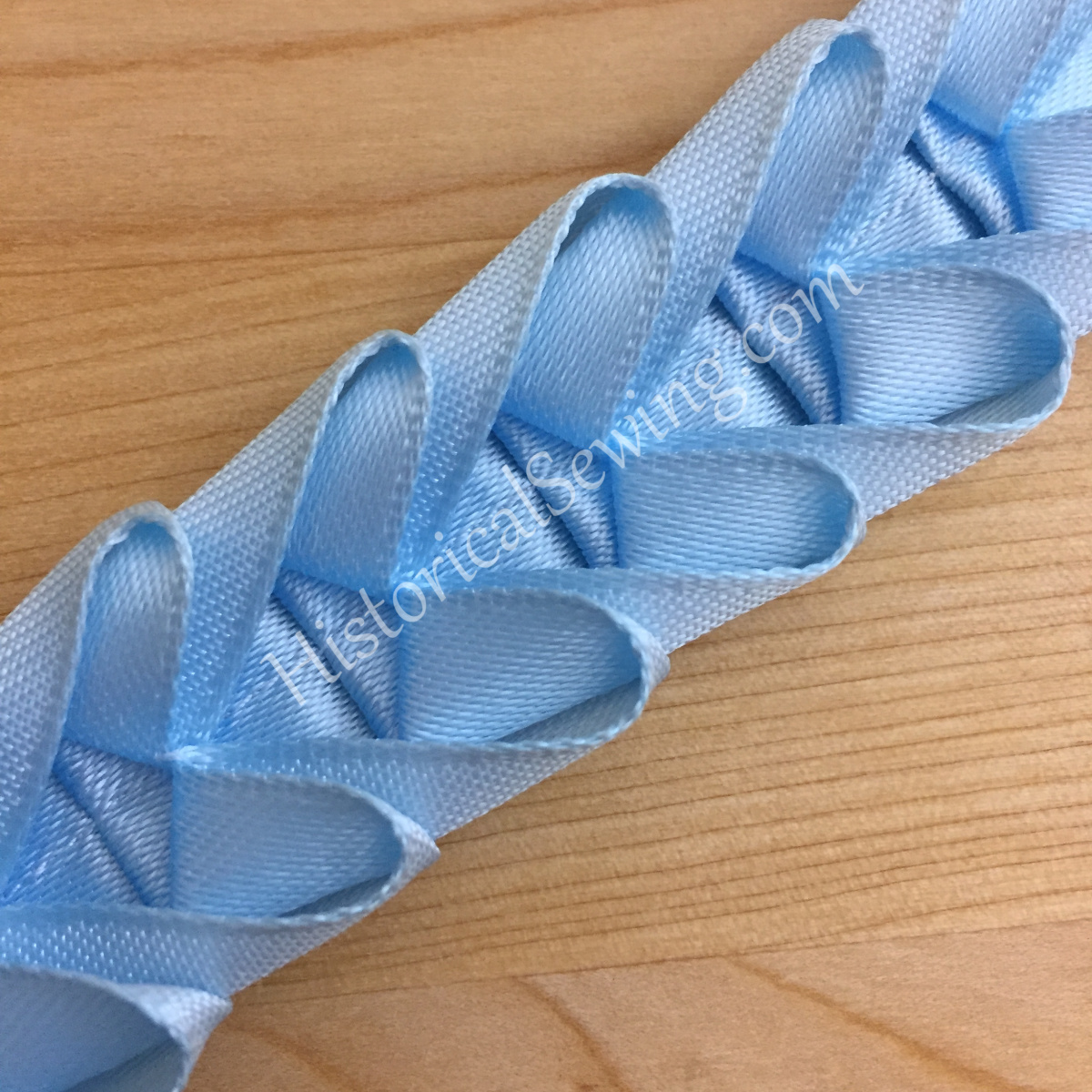 Additional notes on general ribbon sewing are included, as are recommended supplies and stitches to use for best results. Also, a complete PDF handout of all tutorials with full set of sewing instructions and photos is available in class.
Take the next step in your sewing journey with creative ribbon trims!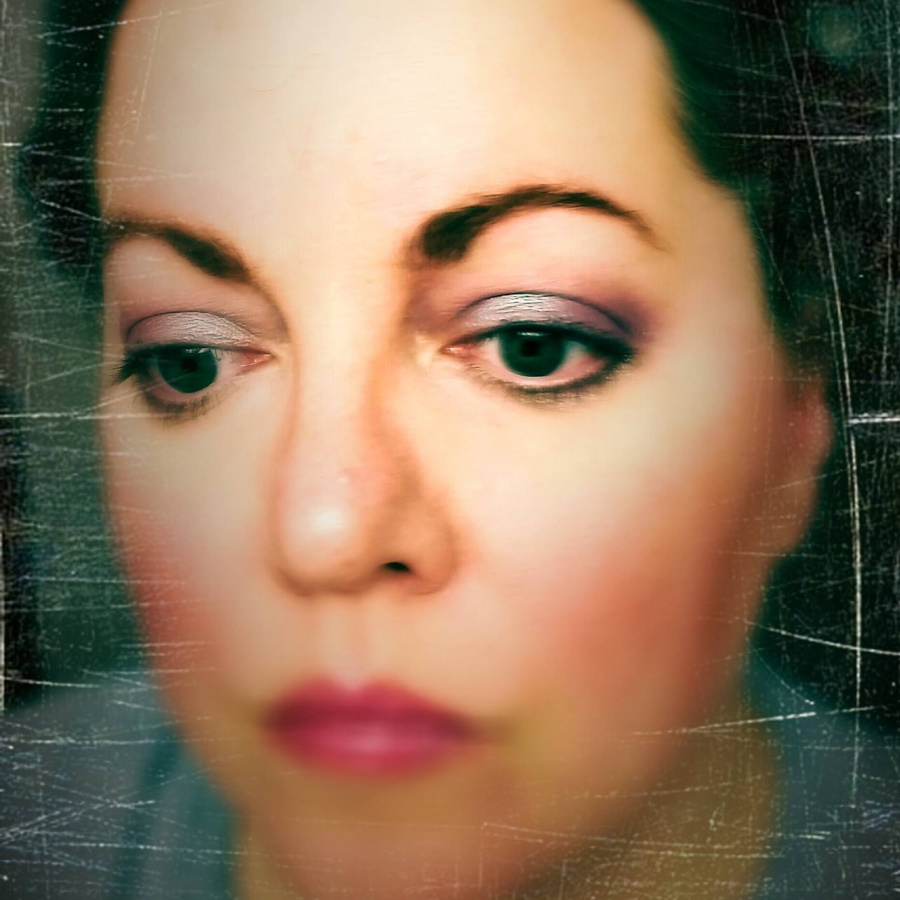 "With her wonderful attention to detail, enthusiastic teaching style, and newly added closed captioning option, Jennifer makes the seemingly complex easy to achieve by all."
~ Rebecca Sakamoto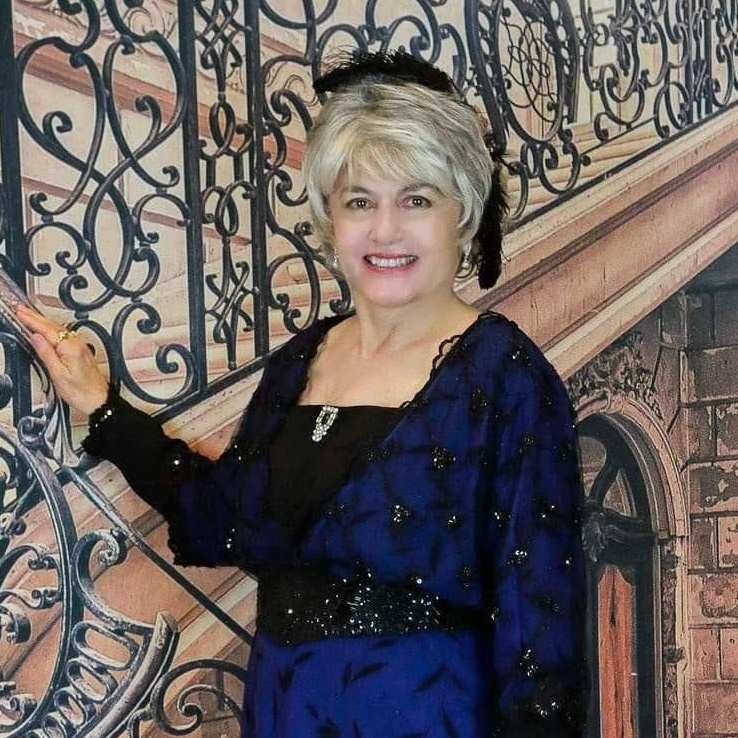 "Whether you are experienced or a novice, whether creating for a perfect historical application or modern use, Ribbon Trims is an extraordinary forever resource. Directions are clear and the videos are like having a personal teacher sitting next to you. The pdf and Closed Captioning options make these tutorials the right learning tool no matter how you learn best. From a simple Knife Pleat to the Maltese Cross and Shell Smocking, this class will up your embellishment game!"
~ Jeanette Murray
Course Curriculum
Welcome to Class!
Available in days
days after you enroll
Bonus: Using Ribbon Trims on Dirndls
Available in days
days after you enroll
Your Instructor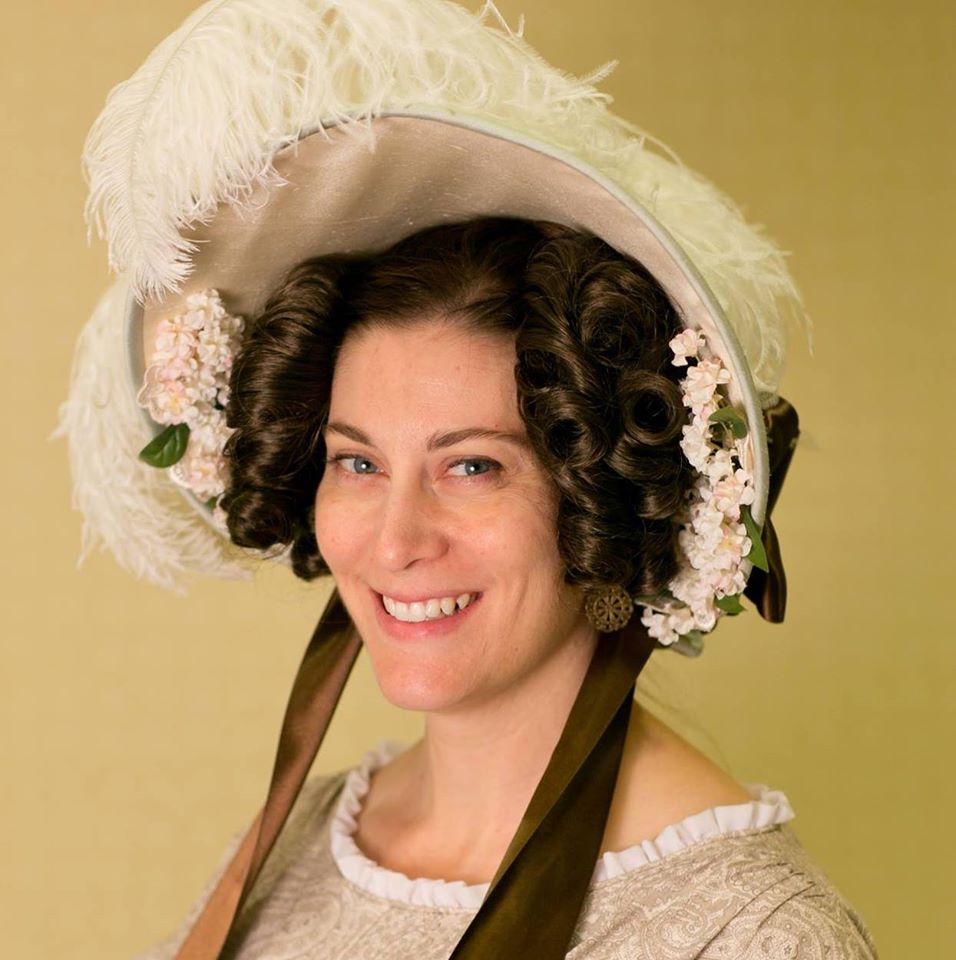 Teacher to hundreds of sewing and costuming students since 2004, Jennifer dreams of the nostalgia of the past and brings it into her modern life through creating costume ensembles from about 1780 to 1920. Dark chocolate, Jane Austen and bustle dress fanatic. Daughter of the King.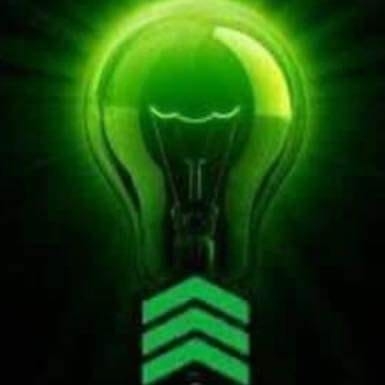 "I HIGHLY recommend this class. I had so many "ahhh THAT'S how that is done" moments."
~ Carol Kuropatkin-Cone
Frequently Asked Questions
When does the class start and finish?
The class starts now and never ends! It is a completely self-paced online class - you decide when you start each lesson/tutorial, complete the sewing, and when you finish the project.
How long do I have access to the class?
After enrolling, you have unlimited access to this class - across any and all devices you own - for as long as this site is available.
Can I get personal feedback and help with my ribbon samples and sewing?
Of course! We are here to see you succeed in creating embellishments you love. Post comments and questions in the box available in each module for personal feedback and celebration of your success.
What if I am unhappy with the class?
We would never want you to be unhappy! If you are unsatisfied with your purchase, contact us in the first 30 days and give us the opportunity to address your concerns.
If I change my mind, can I request a refund?
Due to the nature of the materials and intellectual property presented in the class, all sales are final.
Do the videos include closed captions for the hearing impaired?
Yes! We are excited to offer this service on each video of this class for everyone who may want or need to read what is being spoken in the videos.
Get creative with ribbons today!