Your lovely 19th century gowns need a firm foundation. You want to "do it right" with a corset silhouette but you may have no clue how to make one.

If you're serious about learning how to sew a Victorian corset with the tips & tricks to creating one that is comfortable and made for your unique figure, then I invite you to enroll in this course.
An hourglass figure. Back support. Beautiful Victorian shaping. Looking like you stepped out of time. A corset offers all these plus the confidence in your demeanor and spring in your step.
Through 4 detailed lessons I'll cover the bases needed for a complete Victorian corset to create a strong silhouette foundation. Lessons include full video tutorials along with an accompanying PDF handout with homework assignments.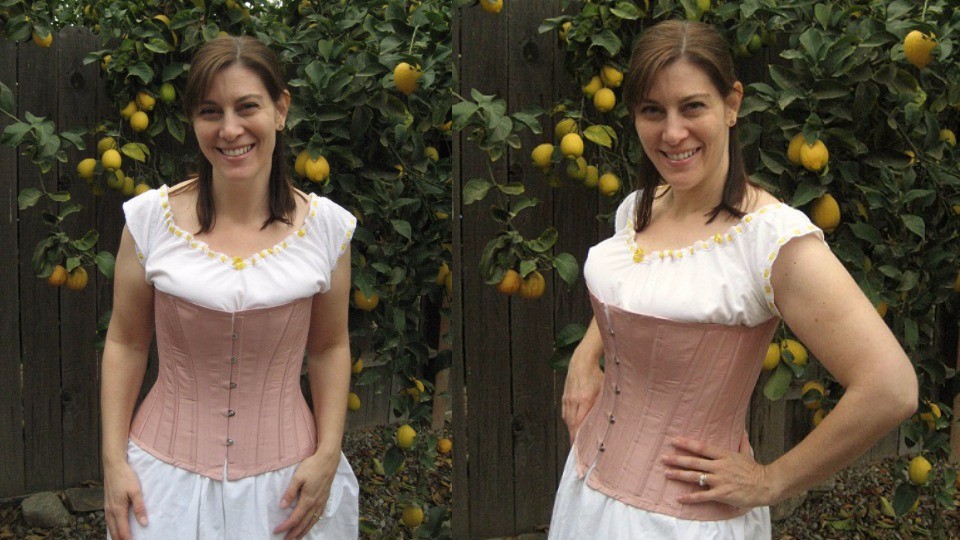 This is an intermediate level sewing class.
You should understand basic sewing techniques and be comfortable with your machine. But don't worry! I'll teach you how to set in the busk and grommets if they are new to you.
Advanced processes such as fitting tips and methods will be covered. But for the most part we'll stick to the pattern for sewing construction.
The focus of this class is to understand how to make a corset, including fitting tips, so you end up with a quality undergarment you can be proud of (and a finished pattern so you can make another one in a different color).
Saturate your corset making knowledge and improve your skills!
Together we'll explore the various parts of corset construction including fabric selections, setting in a busk, where & how to put in boning, binding and setting in grommets.
FYI: Reenactors, museum docents, and serious historical costumers will benefit most from taking this class. It is designed for those wanting to create a proper Victorian silhouette for under historically styled clothing and costumes.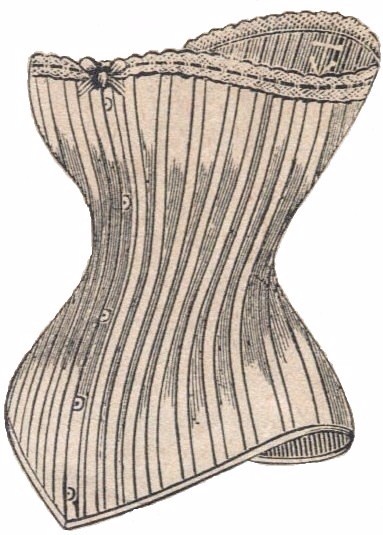 Detailed Tutorials:
Lesson 1: Discussing fabrics & special tools, taking measurements, and sewing the mockup
Lesson 2: Fitting the mockup and pattern alterations
Lesson 3: Main corset construction including busk and boning channels
Lesson 4: Finishing with binding, setting in grommets and lacing the corset
Nowadays you'll find a variety of corset patterns on the market. Some are better than others and all have their flaws. However, for this project, we'll be using the popular Truly Victorian 1880s corset pattern, TV#110 (sold separately in our Old Petticoat Shop).
Don't be turned off by the "1880s" label though! It is a basic shape that will support most of your Victorian dresses from the 1850s through to 1900 and more.
As with all our classes, you may choose to use another pattern but know that the specific steps of each lesson will cover the Truly Victorian pattern.
You also get the know-how of making a corset from plain coutil or covering with a fancy fashion fabric. Fabric selections good for corset making will be covered.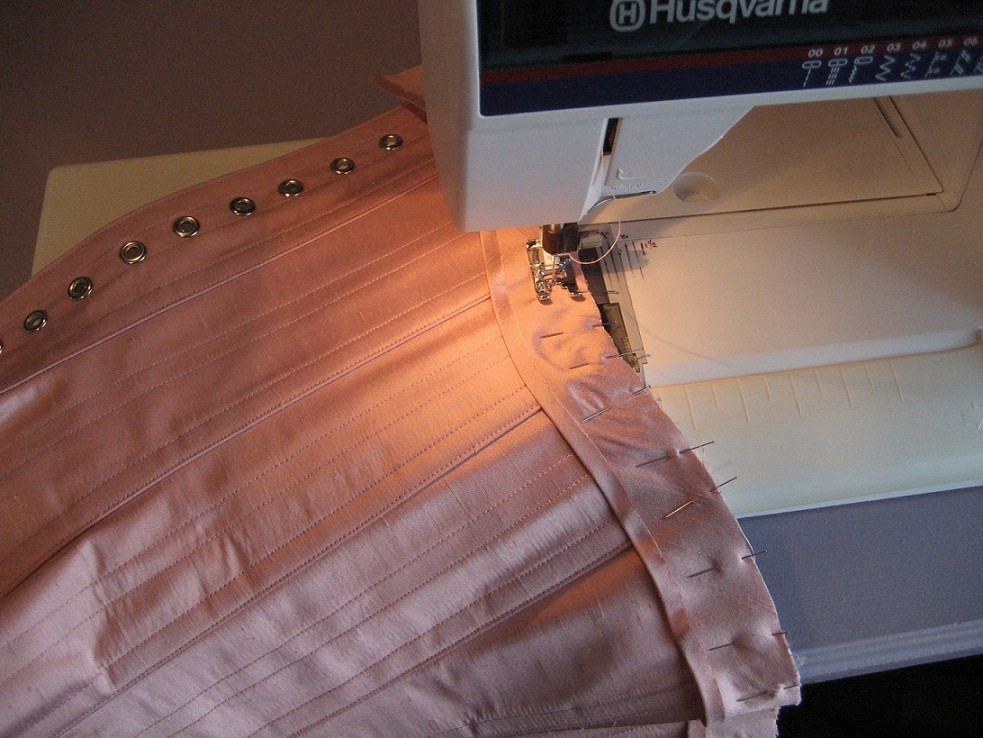 Valuable Skills & Techniques You'll Learn:
Most reliable foundation and fashion fabrics for corsets
Fitting tips for molding the corset to your curves
Flatlining your corset with a fashion fabric
Measuring for the busk and boning sizes that fit your specific size
Setting in a front opening metal busk
Best method for applying secure grommets
Binding sewing tips
Intermediate Level Class
If you have sewing experience but are new to corset making, you will feel comfortable here. We'll be following the pattern closely so you should be able to keep up with the class just fine.
If you are new to sewing in general, this may not be the best class for you at this time. Perhaps a basic chemise and drawers class would be better so you don't become frustrated with techniques that are beyond your current skills. But if you have no fear – jump in!
If you are advanced in your sewing skills or have made corsets before, you are welcome! Maybe you simply need the class as accountability and a guideline so you'll finally get that new corset finished. Advanced techniques beyond general fitting and pattern drafting are not covered so those advanced corsetieres may feel the class is too basic.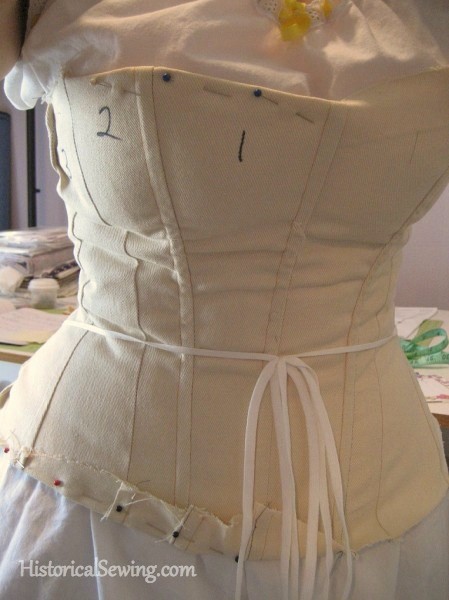 Class begins when you're ready and access never expires. Be sure to download & print the handouts too for future projects!
One final note - this class was initially hosted on my blog, HistoricalSewing.com. Any reference to emails, different lesson pages or logins, and even timing between release of lessons should be disregarded. You have access to the entire class lessons here on this site with progression on your own schedule.